Art History and Society Definition:
There are many ways in which art history and society are interdependent. Events and technologies affect the content and form of art. Censorship, freedom and social roles limit and support artistic expression. The pervasiveness and centrality of art in society amplify its cultural gifts. Histories and cultural ideologies are revealed through various artforms reflecting concepts of time and space.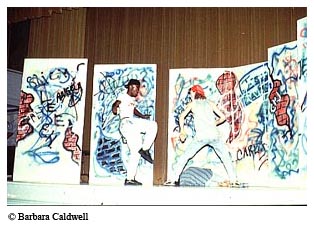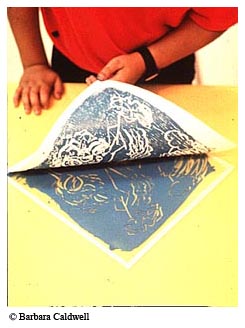 Related Concepts:
Events Affect Art/Art Affects Events: The interconnectedness of history and art can be seen in the interplay of events and the art world. Human struggles, discoveries, wars, and liberation have a dramatic influence on art's form and content. Paintings (such as "Guernica" by Picasso) have responded to human suffering. Keith Haring painted the Berlin Wall with images of unity. Documentary films and photographs have inspired child labor laws and changed idealistic attitudes about war.
Censorship and Freedom: What art is displayed and where is determined by the valuing and editing of art. Some countries have given more freedom to artists than others at various times in history, thus promoting or restricting artistic production, content and public access to it. Creating and sharing of art celebrates freedom of the human creative spirit.
Roles and Training of Artists: Who is determined or trained to be an artist may be determined by the artist, the society that they function in or by historians. Some people create exquisite aesthetic objects but do not consider art as separate from daily life. Others strive to become a part of an elite group of artists they consider to be exemplary or famous. Artists may be formally educated, self taught or apprenticed in various ways. All are artists.
Materials and Technology Affect Art making: Art has utilized materials and technologies that are as simple as two leaves on a bed of grass, and as complex as intricate computer programming. Availability of materials and discoveries at any particular time or place affect the forms art takes. Fire preceded the firing of ceramic pottery. Oil paint in tubes enabled painting on location outdoors to occur. Photography documented events not seen before.
Concepts of Time and Space: Society creates art and records its history in various ways that reflect differing concepts of time and space and levels of desire for permanence. Looking through time and space at an expansive, inclusive world of art is the goal of global art history. The recording and sharing of these cultural achievements gives a sense of unity, permanence and life to art histories.
Art History Lives in the Present
Global/Multicultural Perspectives
Art, History and Society